Course Aim 

To provide delegates with a thorough understanding of the hazards associated with operating such machinery. To have a working knowledge of how the various machines operate and to identify the major components of the machine and explain their functions, including weight limits, and to carry out an effective pre use check. 
Course Contents
Responsibilities under the Health & Safety at Work Act, 1974, PUWER 98 & LOLER 98 
Operators Safety code 
Pre-use checks 
Factors affecting stability 
Motive controls of the Cherry Picker 
Manoeuvring the MEWP in open and confined spaces 
Working at various heights 
Harness use and inspection 
Assessment Method
Associated Knowledge Test (5 open and 20 multiple choice questions), Pre Use Test and Practical Test of Basic Operating Skills 
Additional Information
Max number of trainees – 3 
Length of Certification – 3 Years 
Duration – Dependant on Experience and number of trainees on course. 
Certification
RTITB, NPORS or Small Training Solutions Certified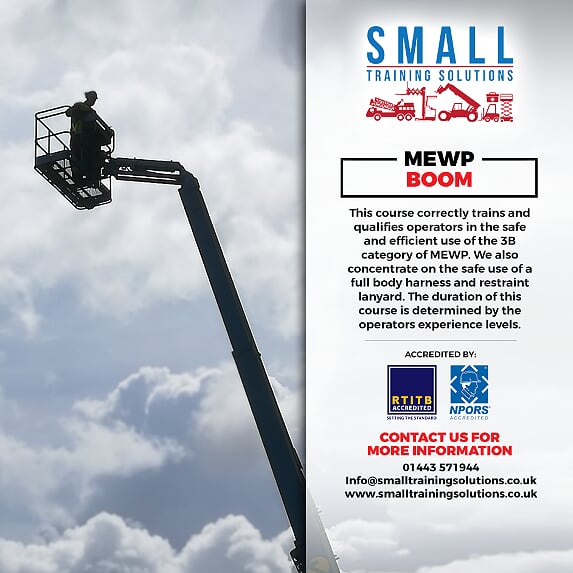 For availability, bookings and prices, call us on 01443 571944
Alternatively you can contact us online – just click the button to the right.